"We have taken up your challenge. Prepare how you will flee tomorrow night." These words were uttered 10 years ago, on 5 May 2013. Hefazat-e-Islam's former leader Maulana Mamunul Huq, was addressing the general secretary of ruling Awami League from the Hefazat rally at Shapla Chattar.
On that day, the Awami League general secretary Syed Ashraful Islam, addressing the Hefazat leaders who were rallying at the Shapla Chattar in Motijheel calling for the implementation of their 13-point demand, had said if the rally wasn't ended by 6:00 in the evening, action would be taken. In reply, Mamunul Huq from the rally told the government to make preparations on how they would flee. But that very night the police, RAB and BGB jointly cracked down on the rally and the Hefazat gathering dispersed. Clashes and violence broke out on 5 May all over Dhaka. At least 39 persons were killed that day and the next, in Dhaka and other areas of the country.
Ten years ago on this day, Hefazat came into limelight when madrassa students and teachers from all around the country came to Dhaka and took up position at Shapla Chattar. Their 13-point demand was criticised by various quarters. Many organisations protested against the demands which included death sentence for blasphemy and making it compulsory for women to wear hijab, as well as their demands regarding the policies pertaining to women and education.
Hefazat came to the centre of attention once again in March 2021. This was because of an outbreak of violence in Dhaka, Chattogram, Brahmanbaria, Narayanganj, Munshiganj and other places centering the visit of Indian prime minister Narendra Modi on the occasion of the Golden Jubilee of Bangladesh's independence as well as the centennial of Bangabandhu's birth. At the time, 19 were killed in clashes with the police.
But a decade on, Hefazat no longer has that clout or organisational position. Maulana Mamunul Huq, who in 2013 had told the government to prepare to flee, has been languishing behind bars for the past two years. He is under trial for 41 cases. There are 285 such cases against a few thousand Hefazat leaders and activists all over the country.
Persons involved with Hefazat say this diminishing of influence and importance has affected various Qawmi madrasa-based political parties. After all, most of the Hefazat leadership was attached to some Islamic party or the other. And so leaders of these religion-based parties are inevitably accused in these cases against Hefazat. These cases, arrests and various pressures have weakened the religion-based parties and pushed Hefazat's back against the wall.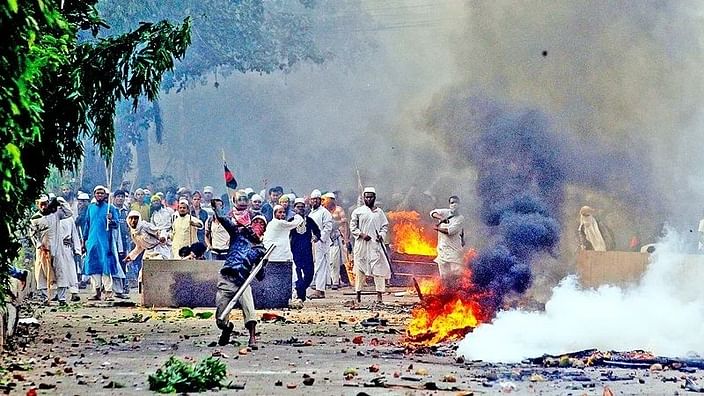 Hefazat-e-Islam leaders and activists carried out violence and arson at Shapla Chattar, Motijheel, Dhaka on 5 May 2013Prothom Alo file photo
Hefazat's former organising secretary Azizul Huq Islamabadi was arrested in a case and spent 21 months in jail. Speaking to Prothom Alo yesterday, Thursday, he claimed that Hefazat-e-Islam was victim of national and international conspiracy. The government was trying to suppress them.
A top leader of a certain Qawmi madrasa-based political party, explaining the present situation to Prothom Alo, said that in 2013 when Hefazat had announced its Dhaka siege programme, the BNP-led 18 party alliance and Jatiya Party (JaPa) lent their support. But later this relationship between Hefazat and the two parties and the alliance did not last. To the contrary, ties grew between the government and Hefazat. Eventually the government gained a sort of control over Hefazat and this was same in the case of religion-based parties too.
The secretary general of Hefazat-e-Islam, however, has a different interpretation. He told Prothom Alo, "It is not true that we have a good relationship with the government. Hefazat, non-politically, wants good relations with all. We have no agenda for or against anyone."
Government stern on 2021 incident
The government took a stern stance against Hefazat after violence and clashes broke out in various areas of the country in 2021, centering the visit of Indian Prime minister Narendra Modi. Over 1000 leaders and activists were arrested at the time. Most of them are out on bail, though, with only 10 to 12 still remaining behind bars. The incarcerated leaders include Mamunul Huq, Sakhawat Hussain Razi, Munir Hussain Kasemi, Harun Izhar, Nur Hussain Nurani, Amir Hamza and Shahedul Islam among others.
Appeal to the government
While the Hefazat rally was dispersed on 5 May 2013 by the law enforcement, the government did not maintain this stern stance against them later. Quite to the contrary, it reached out to Hefazat at various times and even acquiesced to some of their demands, including certification of Qawmi madrasa education. The government struck up good relations with Hefazat's founder ameer, Shah Ahmad Shafi. This relationship remained strong up until his death. The government's ministers, members of parliament and senior officials would visit Ahmad Shafi. This connection somewhat cooled after Junaid Babunagari took over as ameer. Upon Babunagari's death, the Hefazat committee was revamped and ties with the government strengthened once again.
Hefazat leaders at various points of time have called upon the prime minister and the home minister, asking that the cases against them be dropped and the imprisoned leaders and activists be released. Most recently, on Wednesday afternoon, a three-member committee for the withdrawal of cases against Hefazat, met with the home minister at the secretariat.
Joint secretary general of the organisation, Muhiuddin Rabbani, speaking to Prothom Alo, said, "I have met with the prime minister and the home minister several times, calling for the cases to be withdrawn. But chargesheets in two cases in Brahmanbaria have been submitted and the hearing date fixed. I informed the home minister of the matter."
Leaders within Hefazat have said they are concerned about the release of all their jailed leaders and activists and the remaining cases." In a letter to the home minister in June last year, Hefazat called for the release of all its leaders behind bars. They made a pledge not to take part in any activities that would put the government in a difficult position.
Sharif Muhammad, writer and researcher on Islamic matters, closely monitors the activities Hefazat and religion-based parties. Speaking to Prothom Alo, he said that Hefazat has fallen behind somewhat organisationally, but may rise up again at any time if it gets the chance.
Hefazat ameer, Shah Muhibullah Babunagari, claims that they are continuing with their struggle.
Hefazat captured, Islamic parties weak
Of the 40 political parties registered with the election commission, 10 are Islamic parties. And of these, 6 are Qawmi madrasa-based parties. These are, Islami Andolan, Islami Oikya Jote, Khelafat Andolan, Bangladesh Khelafat Majlis, Jamiyate Ulema-e-Islam and Khelafat Majlis.
Other than Charmonai Pir's party Islami Andolan, the remaining five are affiliated with Hefazat. Alongside Hefazat, these parties too face cases, arrests and all sorts of pressure. Islami Andolan Bangladesh is an exception. This party's meetings, gathering and religious rallies have not faced any obstruction.
A decade on since its rise, Hefazat is now in the government's pocket, according to concerned quarters. Most Islamic parties are in the same predicament
The five Islamic parties with Hefazat — Islami Oikya Jote, Khelafat Andolan, Bangladesh Khelafat Majlis, Jamiyate Ulema-e-Islam and Khelafat Majlis — were all in the BNP alliance earlier. Under various forms of pressure, none of them remain in the BNP camp now. However, two factions under the names of Jamiyate Ulema-e-Islam and Islami Oikya Jote, having no registration, remain with BNP.
Speaking to Prothom Alo, secretary general of Khelafat Majlis and Hefazat-e-Islami's former naib-e-ameer, Amir Ahmed Abdul Quader, said that Islamic party leaders have previously been in the Hefazat committees. Later the committees had been dissolved by the invisible hands of government quarters. New committees were formed with government backing. Those committees too are under pressure. Other Islamic parties are also facing pressure.
.
.
.
.
.
.
.
.
.
.
.
.
.
.
.
.
.
.
.
.
.
.
.
.
.
.
.
.
.
.
.
.
.
.
.
.
.
.
.
.
Hefazat-e-Islami had emerged on the scene in 2010 with its opposition to the women's policy. At the outset Hefazat had been headed by the Hathazari madrasa's director general at the time, Ahmad Shafi. It rose to prominence in 2013.
A decade on since its rise, Hefazat is now in the government's pocket, according to concerned quarters. Most Islamic parties are in the same predicament. With the elections ahead, it has been learnt, Hefazat and many Islamic parties have good ties with the government.
Writer and researcher on Islamic affairs, Sharif Muhammad, said that Hefazat and the Islamic parties have not been able to hold on to their strength and verve. The leaders of the organisations may blame this situation on the cases, arrests and the government's controlling strategy, but it is hard to deny the weaknesses that exist within the leadership of Hefazat and the Islamic parties.